Product Overview
BlessBit, stands for Bufferless Bit Delivery, was born from years of experience of large-scale streaming for some immensely high value clients all over the world. BlessBit provides end-to-end media delivery solution including transcoding, ad pusher, media delivery, custom player and analytics for content owners, media house and serve as a complete OTT platform. BlessBit was recently awarded National ICT Award 2019 by BASIS and partnered with Amazon Partner Network (AWS) for better service and performance.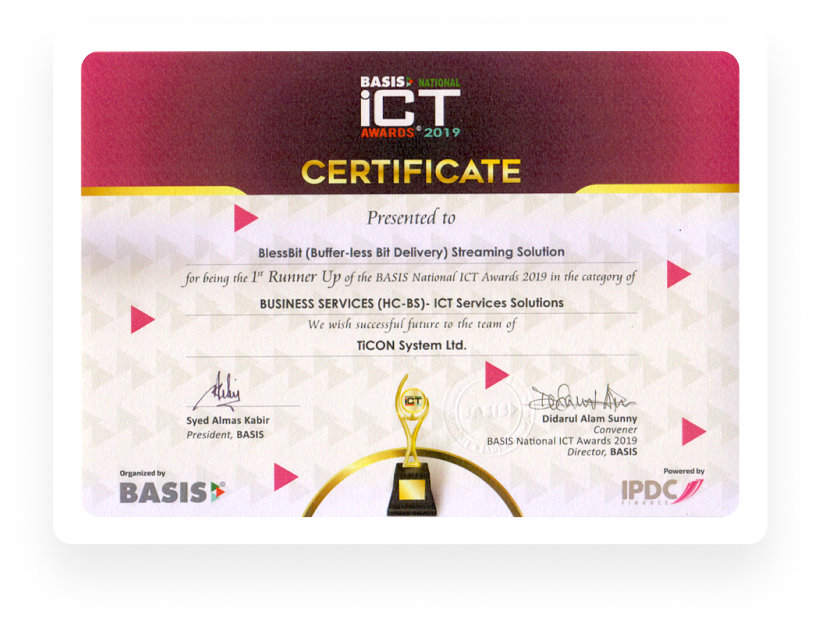 BlessBit achieved first ever AWS ISV (Co-sell with
AWS) in Bangladesh
Total Digital Media & OTT solution 'BlessBit' are highly awarded by our customers and industry analysts, AWS will promote 'BlessBit' to prospective clients all over the world.
Streaming Engine
Java Based Custom Solution
Authentication
(Content theft prevention)
Java Based Custom Solution
Encoding
FFMPEG Custom Profile (Multiple Profile Enabled, CPU/GPU Optimized Encoding)
Ad Pusher
(Multiple Ad Formate)
FFMPEG & JAVA Based
Database
AWS RDS Aurora Serverless (MySQL)
Analysis/Reporting
(Content theft prevention)
JAVA Based
Cloud Streaming Features for Live Video Delivery
Provide the live streaming services your customers want with the reliability and efficiency you need
Scale on the Fly
Optimize video delivery with multi-CDN capabilities and real-time scaling.
Seamless Integration
Integrate with a wide range of media applications using the VOS API
Unrivaled Quality
Reduce latency with exceptional encoding efficiency and AI techniques.
Cloud Neutrality
A cloud agnostic design enables a multi-cloud approach and geo-redundancy.
24/7/365 DEVOPS
Dedicated teams of experts provides the highest level of availability and maximum uptime.
Powerful Workflows
End-to-end capabilities simplify all stages of the media processing and delivery chain.
AWS Digital Media Partner Solution
As a proud APN (AWS Partner Network) member, BlessBit OTT Solution is hosted on AWS. BlessBit is utilizing AWS services and power of the AWS cloud to deliver a secured and cost-optimized solution for multiplatform distribution: broadcast, cable, VOD, IPTV, multiscreen OTT.
Security
Best-in-class security protocols and the most sophisticated protection are among the biggest reasons why customers and partners choose to send their content using BlessBit.
End-to-end data encryption using industry-standard AES ciphers with up to 256-bit key
Session establishment is password-protected using a secure handshake
DTLS version 1.2 (RFC 6347) with certificate validation and strong ciphers
Live Video Transcoding
Cloud transcoding
All device compatibility
Both H264 & H265 transcoding
Multi bitrate, prepared for any network (Upto 4K)
Transcode for Low Latency streaming
Custom tweaking of transcoder according to content type
Streaming Security
Geo-location wise user registration restriction
Geo-location wise content restriction
Count the number of active screens at this moment for any use
Stamp to catch re-distributor from screen capture
Active Streaming Protection
Broadcast-to-IP migration
Video Streaming Solutions
White-Label Capabilities
HTML5 All-Device Video Player
Content Delivery Network (CDN)
Monetization Tool
API Access
Analytics Dashboard
AI Powered Analytics
Total viewer/ content wise viewer/(custom metrics) wise viewer
(Custom metrics) wise watch time
Top performing content
(Custom metrics) wise impression and search count
Views from impression
Traffic from (custom metrics)
Content Distribution (CDN) Solution
BlessBit is built both for in-house created CDN, which BlessBit also offers itself. BlessBit setup can be done for delivery through public CDN like CloudFront, Alibaba cloud CDN, Google CDN etc. BlessBit also supports hybrid content delivery between self hosted and public cloud CDN.